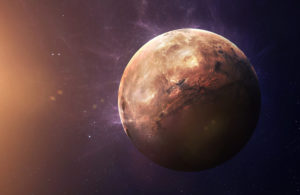 This recent edition of Mercury retrograde started on Sunday, December 3rd and will last until Friday, December 22nd. It began near the Galactic Center in Sagittarius, which is where last year's retrograde in December/January ended, although it travelled mostly in Capricorn at that time. This could suggest that for many people this period is about continuing, revisiting, or evolving an area of your life similar or related to what was happening then. Perhaps you are picking up where you left off and/or you are taking a new approach to something.
Astrologically, the Galactic Center has the potential to be a powerful source of inspiration and could trigger new awareness and levels of consciousness. It can be revolutionary or evolutionary, and contacts to this point can help to transmit ideas, intuitions, and perspectives that are beyond what we normally are able to perceive. It can also amplify the energies of the planet(s) travelling there and help to plant seeds associated with what the planet represents.
Mercury started its retrograde while in a conjunction with Saturn at the Galactic Center and also in aspect with Mars in Libra. This part of it was strongest up until December 6 but still has an influence throughout the retrograde. The alignment with the Galactic Center amplifies the energies of Mercury and Saturn.
As mentioned above, Mercury is associated with the mind, communication, writing, information, as well commerce and commuting. With Saturn, this can manifest as powerful focus and concentration around these Mercury related areas. It can also manifest as general Saturn themes related to structure, discipline, commitment, caution, responsibility, restraint, or needing to be realistic so that we can achieve tangible results.
Mars involved with this can help to push and give us some drive to apply ourselves toward something. This is also reflected in the fact that it will be going into Scorpio during this retrograde, where it expresses itself very strongly.
Sagittarius is the sign of beliefs, opinions, perspectives, exploration, travel, and higher education. It is also associated with marketing, sales, publishing, and media. It is idealistic, philosophical, and expansive. This energy can also be judgemental, blunt, argumentative, and have a 'know-it-all' complex. These are some of the ways in which the Mercury retrograde-related developments or challenges can manifest to ultimately help us move forward in a new way during the post retrograde period after December 22.
Considering that Saturn is a big part of this too, there could be a theme of needing to get real about certain beliefs, revisiting belief structures, or addressing limitations in our perspectives or otherwise. This could also be about applying the Saturn energies toward other Sagittarian themes as mentioned already.
CLICK HERE TO READ MY FULL LENGTH ARTICLE