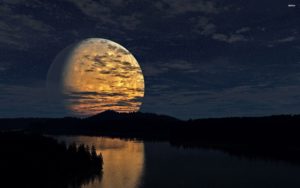 Full Moon's are generally a time in which we can experience challenges or collaborations between two opposing signs, in this case being the Moon in Gemini with the Sun in Sagittarius. We have been in Sagittarius season since November 21st a time in which we may feel more optimistic and expansive after coming out of the depths and complexity of the raw and real Scorpio season.
Sagittarius is the sign of beliefs, opinions, big picture perspectives, as well as travel, and higher education. It can be fearless, freedom loving, as well as overextending and overly idealistic. Gemini is an intellectual and clever sign associated with duality, communication, and considering views and information that is factual or in the immediate sphere. Both signs are also associated with learning and knowledge, however, Gemini comes from a place of curiosity while Sagittarius wants to satisfy its thirst for an all encompassing truth.
Jupiter and Neptune have joined together in a harmonious trine which can give this period a creative, spiritual, selfless, or even an idealistic tone. However, they are also both in a challenging aspect with this Full Moon which could also indicate not seeing things clearly around a situation or perspective. Jupiter also being in Scorpio wants us to grow and learn by going deep and exploring what is beneath the surface which can be at odds with broadminded Gemini energy.
Last but not least we have Mercury, the ruler of Gemini, starting it retrograde also in Sagittarius. Amidst any potential confusion of this Full Moon, this period is kickstarting a month long process which can help us to see things in a different way and potentially go over our aspirations, beliefs, or even worldly and educational interests.
CLICK HERE TO READ MY FULL LENGTH ARTICLE ON COLLECTIVE-EVOLUTION