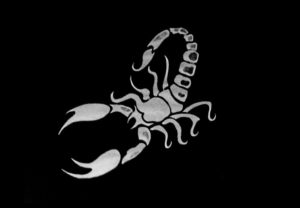 The New Moon in Scorpio occurs on Nov 18th, although we have already been experiencing the energies of this sign over the last month. Scorpio is deep, powerful, emotional, transformative, empowering, intense, sexual, investigative, suspicious, mysterious, hidden, as well as revealing. It is the sign of death & rebirth and can also be dark & fearful, which is something that this sign wants us to face.
Scorpio is also associated with investments, inheritance, taxes, debts, & pooled/shared resources. During this last month & over the coming one, some people may experience some sort of developments or changes in the above mentioned areas. With Jupiter also travelling in this sign, it may also help us to have positive experiences, or help us to overcome any of the challenging expressions, in relation to Scorpio themes.
This New Moon is in a quincunx with Uranus which could have even manifested in the days leading up to it. This could have brought, or will bring, some surprises, disruptions, changes, separations, complications with technology, or accidents. For many people, it could be related to the Scorpio themes mentioned. A similar Uranus energy has also been strong in the previous month, however, this current aspect can manifest in ways calling for us to make some adjustments due to new circumstances.
Scorpio's rulers Mars & Pluto are in a tense square. This can help to give us powerful & perhaps obsessive drive & desires which in some cases can assist us to overcome & breakthrough challenges. However, many people will find that there efforts or desires are faced with power struggles & conflicts. This combined with all the other Scorpio energy can also bring up intense emotions & suppressed feelings. Although this can bring challenges & intensity, this can also stimulate strong sexual passion among lovers in some cases.
CLICK HERE TO READ MY FULL LENGTH ARTICLE ON COLLECTIVE-EVOLUTION