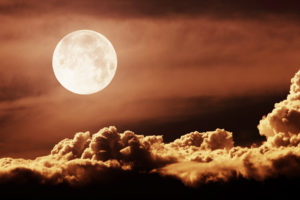 There will be a Full Moon in Aries on October 5 at 6:40pm Universal Time. This marks the peak of the current lunar cycle, which started on September 20. During Full Moons, we experience a push-pull between two opposite signs, in this case the Moon in Aries and the Sun in Libra.
The Aries-Libra polarity has been somewhat of a theme since late last year, when Jupiter and Uranus began their opposition in those signs, which is currently concluding during the week of this Full Moon. We can look at this period as a sort of a finalization of this energy, which has been playing out throughout much of the year and especially in recent months.
Aries is about our self-interests, independence, pioneering, and leading. It can be impulsive and take bold action without much consideration. Libra, on the other hand, is about balance, fairness, relating, and overall relationship interests. Consideration of others interests, needs, and perspectives is what Libra does but it can also be indecisive and lack action.
This Full Moon is bringing these two sides to the forefront, and with Uranus and Jupiter's opposition finishing up in the backdrop, the developments of this polarity playing out carry extra significance. Uranus' influence in Aries brings themes of freedom, authenticity, innovation, revolution, and even rebellion to the table and also really emphasizes the independent side of Aries. While Jupiter can represent freedom as well, it is also wanting to expand and grow in relationships, partnerships, and bringing in balance. We may feel these sides at odds with each other, but we may also find a way to bring cooperation.
Interestingly, Mars and Venus, the rulers of Aries and Libra, are joining together in a conjunction in Virgo within a few hours of the peak of this Full Moon. This could signify and foster a 'coming together' of both sides, either related to our relationships or in other aspects of our lives. With Mercury also in Libra joining the Sun, communication and diplomacy is key as well as thinking in a way that is balanced, considerate, and with the details in mind.
CLICK HERE TO READ THE FULL ARTICLE ON COLLECTIVE-EVOLUTION