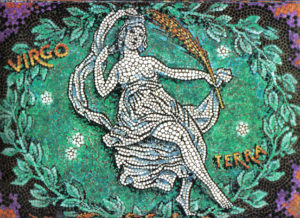 There will be a New Moon in Virgo on September 20, 2017. This is the beginning of a new wave of energy influencing the upcoming month, yet the astrological configurations at this time will have a stronger influence over the following two weeks.
On September 18, less then a day before this New Moon, Mercury finished travelling in the part of the zodiac it occupied during its previous retrograde. These last few weeks (since Sept 5) are known as Mercury's 'post-shadow' period, as there has been more of a forward momentum in response to what transpired during the retrograde and in the aftermath leading up to this New Moon on the 19th.
However, Mercury has also been progressing toward an opposition with Neptune until the 18th/19th, which synchronistically aligned with the end of the post shadow period and transition to a New Moon cycle. In some cases this could still have made the forward momentum of the 'post shadow' period a bit confusing or perhaps related it to escapism or deceiving behaviour. However, in some cases, Neptune here along with other planetary configurations could also indicate spiritual healing or awareness that could influence the way we think.
Pluto in Capricorn is currently almost stationary, as it is finishing up its retrograde that started on April 20. It will begin to move forward again on September 28. During the weeks leading up to and following this date (the 28th), Plutonian themes may be surfacing more strongly.
It could be related to power, transformation, death and rebirth, control, hidden matters, secrets, sex, or even money and business. For some people this can be an empowering time, especially for those born in the early 1980s (primarily 1981-1982) or the mid-1960s and mid-late 1950s.
Some of the themes and developments that have occurred between September 17th-19th could be related to what the previous Solar Eclipse in Leo indicated for your personal evolution now and over the coming months. Venus in Leo was at the same spot of the eclipse, triggering it with themes of love, fun, friendships, creativity, and values, along with money in some cases.
CLICK HERE TO READ THE FULL ARTICLE ON COLLECTIVE-EVOLUTION