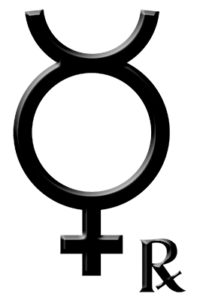 SEPT 1ST – 3RD Mercury retrograde has returned to Leo (yesterday) and is approaching a conjunction with Mars while both are in a trine with Uranus. We may take action or consider doing something original or that brings us a feeling of excitement or freedom. We may feel a boost of inspiration or creativity, and be bold and courageous in our actions and desires. For some people it can even bring some sort of romantic excitement and new experience. Our minds and communications can be very active at this time and our thinking may extraordinarily quick and creative. There may be positive surprises as well.
SEPT 4TH – 8TH Some of these themes mentioned above will still be present as Mercury will still be in a trine with Uranus, but without Mars. Surprises, insights, realizations, breakthroughs, excitement, and creative innovation can still play out, however with less of the assertive and active energy that Mars brought in the days prior. Mercury ends its retrograde on September 5th, so from this day onward we will begin to have more clarity on how to proceed forward based on what has transpired in the weeks and days leading up to this point.
The themes of the recent Solar Eclipse and what it means for you will likely come up this week as Mercury and Mars are triggering the exact same spot of zodiac where it occurred. Whatever developments, changes, or ways of expressing yourself that unfold at this time, will probably be significant in some way for what you are creating in your life over the next 6 months.
***Get a personalized reading to help you better understand what this period means for you. Send me a DM or go to carmendiluccio.com to order.