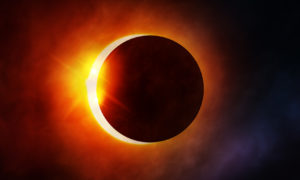 We are having a Total Solar Eclipse in Leo on Monday, August 21st in the Western world, and in the early hours of August 22nd in the East. This eclipse has been dubbed 'The Great American Eclipse' as its pathway of totality will be cutting across the US from coast to coast. The peak of this eclipse and the exact moment of the New Moon will be at 6:30pm Universal Time, although the start and peak times of when the eclipse is visible depends on your location.
This eclipse will be visible throughout North America, Central America, and in the Northern part of South America, as well as part of Western Europe and the west coast of Africa. However, it would be visible only as a partial eclipse unless you are on the pathway of totality which travels through parts of Oregon, Idaho, Wyoming, Nebraska, Kansas, Missouri, Illinois, Kentucky, Tennessee, North Carolina, Georgia, and most of South Carolina.
If you are located on the path of totality, you may be able to see Jupiter, Mercury, Mars, and Venus (in that order) in the dark sky as the Sun is completely covered. This will be a great sight to see if the conditions are right. Also, it's very important to keep in mind that no matter where you are viewing the eclipse, make sure to be wearing certified viewing glasses when looking at the Sun as your eyes can damage without them.
Solar Eclipses are like a supercharged New Moon which occur every 6 months. They happen back to back with a Lunar Eclipse which is a supercharged Full Moon. Eclipse periods coincide with endings and beginnings and in some cases can feel like starting a whole new chapter depending on how they are influencing your natal astrology chart.
They can be a bit of a 'wild card' sometimes. The energies are strongest within a month of occurring which is when related events or circumstances may transpire. However, the effects of eclipses can still manifest over the following 6 months and gradually leading up to it.
CLICK HERE TO READ THE FULL ARTICLE AND SEE MY VIDEO ABOUT WHAT THIS ECLIPSE COULD MEAN FOR YOU