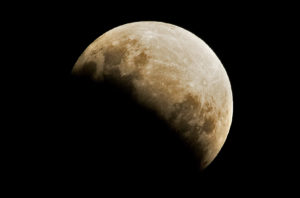 We are having a Lunar Eclipse in Aquarius on August 7th/8th depending on where you are located in the world. It will be visible in most of Europe, Asia, Australia, and most of Africa. Its peak will be at 6:20pm Universal time, but will start just under an hour and finish an hour later.
Eclipses represent changes and shifts in certain areas of our lives and they usually occur in pairs with a Solar Eclipse occurring at the New Moon before or after. Their influence can start weeks or months before, and also set the tone for the following six months until the next series of eclipses.
The influence of eclipse season can be symbolic of turning a page, or even starting a new chapter, in the story of our life. However, some of these themes will continue to play out until late 2018 as we will be having more eclipses in this sign following this one. Much of how each eclipse will influence you specifically depends on how it is interacting with your natal astrology chart.
This series of eclipses is happening in the Aquarius – Leo axis with the upcoming Solar Eclipse occurring in Leo. Eclipses always occur near one of the two lunar nodes. This one will be occurring near the South Node which is associated with the past and certain aspects of this energy that can be holding us back.
Aquarius is the sign of friends, the group, the team, and the collective. It is intellectual, scientific, yet broad minded. Aquarius is progressive, socially idealistic, and concerned with the interests of humanity. Although we may experience some positive new developments in relation to this energy, ultimately this is a South Node Lunar Eclipse which is about making changes or and in some cases even endings related to this.
CLICK HERE TO READ THE FULL ARTICLE ON COLLECTIVE-EVOLUTION
—

Get a personalized reading to help you better understand what this eclipse period means for you. Go to my readings page for more information or to order.