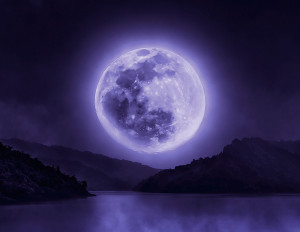 We are having a Full Moon in Capricorn on either July 8th/9th, depending on your location. The astrological energies of the Full Moon can start to become noticeable in the days leading up to it and will remain fairly strong in the days following. The planetary configuration at this time also influences the following two weeks, until the next Moon cycle begins.
Full Moons are the most emotionally charged time of the month. With the Sun being in Cancer, this Moon brings out the opposing polarity of Capricorn, and we may feel the energies of each sign either collaborating or challenging each other.
The Sun is masculine, which represents our ego needs/impulses, and the Moon is feminine, representing emotional needs/impulses. This polarity can play out in different ways, as we can feel it within ourselves as well as experience it influencing our relationships and the world around us. However, it can sometimes be hard to tell if each side of it is coming from a place of ego or emotion, especially this time around with the Sun in Cancer.
Full Moon in Capricorn Conjunct Pluto, Sun in Cancer Conjunct Mars
The Sun has been in Cancer of the tropical zodiac since the solstice on June 21st, when the Sun's rays directly aligned with the the Tropic of Cancer on our planet. During this current astrological month, there may be an extra emphasis on family, domestic life, self-care, emotional sensitivity, and bonding with others. Cancer is also about nurturing, vulnerability, comforts, and security.
While Cancer is more domestic, Capricorn is more of a worldly sign. It is about our ambitions, management, structure, discipline, and responsibilities. It is pragmatic, realistic, conservative, and determined. Capricorn takes steps toward masterful achievement…..
CLICK HERE TO CONTINUE READING THIS ARTICLE ON COLLECTIVE-EVOLUTION.COM