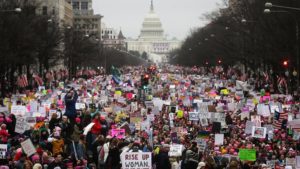 In September 2008, the planet Pluto ended a retrograde period in the tail end of Sagittarius and started moving toward Capricorn, where it would stay until 2024. At that the time, the biggest news was that, unless the government stepped in and bailed out the banks, the United States was on the verge of financial collapse.
Pluto is the planet of transformation, renewal, death, and rebirth. It is a purger, destroyer, and creator. It rules hidden matters as well as the withholding or revealing of secrets. It represents power and control, as well as domination and manipulation.
Capricorn is associated with worldly structures such as government, banking, and business, and Pluto in this sign is reflecting the changes that are happening in these areas. It has already travelled through Capricorn for just over half of its 16 year duration and its effects have become increasingly obvious over time and will continue to do so, especially over the next three years.
Pluto and the United States Government

The last time Pluto was in Capricorn was from 1762-1778, which is when the United States of America was founded. At that time, colonies sought to establish themselves independently from an oppressive and troubled British monarchy, which led to the Declaration of Independence.
Over the years following this, the United States eventually would become the dominant country and currency and other countries would 'adopt' their style of democracy, or have it forced upon them. The Founding Fathers appeared to have good intentions when creating the United States, but over the years the government would become corrupt and work to serve the interests of the global elite, bankers, etc.
However, in this latest edition of Pluto in Capricorn, it looks like the governing and financial structures of the U.S. will fall victim to Pluto just as they did to Britain the last time this occurred. It is also possible that the European Union and other government and international structures will be negatively affected as well. This will be the first 'Pluto in Capricorn' we are living through and observing since its discovery.
So far throughout this Pluto in Capricorn, we've seen a lot of interesting developments that truly reflect Pluto's properties. Pluto can reveal secrets and we've seen that with the information coming from Wikileaks and Edward Snowden. The people's desire for change is reflected in the last three presidential election cycles and the increasing popularity of anti-establishment presidential candidates. It started with Ron Paul in the 2008 and 2012 elections and was then followed by Bernie Sanders and Donald Trump in this most recent cycle.
We've also seen this strong desire for change through massive protest movements that have been occurring such as Occupy Wall Street, Standing Rock, and Black Lives Matter, among others. When the U.S. was formed, slavery was alive and well, and the current oppressive treatment of black people by police and many others can be traced back to this time. As Pluto represents power and abuse, the upcoming Pluto can also potentially help to facilitate bigger steps toward racial equality.
More and more people have been becoming aware of the conspiracies behind political establishments and we've seen a tremendous rise in the popularity of people like Alex Jones. The fact that he was recently interviewed by Megyn Kelly is an astonishing reflection of the change that is occurring. When I first became interested in conspiracies, shortly after 9/11, I followed Alex Jones' work and at that time I never would have imagined him being interviewed on a mainstream prime time show.
CLICK HERE TO CONTINUE READING THIS ARTICLE ON COLLECTIVE-EVOLUTION.COM