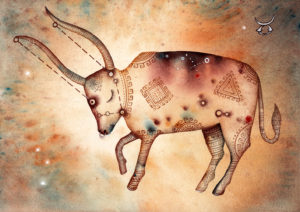 We are having a New Moon in Taurus on April 26th at 12:16pm Universal Time. New Moons are the beginning of a new wave of energy that lasts until the next one occurs 29 days later. However, the astrological configurations at this time mostly have a stronger influence over the following two weeks.
Mercury has been retrograde since April 9th/10th and will be finishing up during this window. It will slowly begin to change motion from moving backward to forward on May 3rd/4th, though it will appear stationary. From this point on it will pick up speed, and many of the lessons, insights, and changes that occurred over the previous three weeks will start to make more sense and things will start to fall into place and flow better. Some of the common Mercury retrograde complications can still occur during the following days after this shift in direction, but will minimize and then disappear as its speed increases.
Venus finished its retrograde on April 15th; however, it is still moving slowly, as some of the themes, both developments and challenges, around our relationships, money, values, worth, and beauty/creativity will continue to sort themselves out. Since Mercury is partially retrograde in the Venus-ruled sign of Taurus, it is giving some of the same themes an extended run. A few days after this New Moon, on April 28th, Venus returns into Aries at the starting point of the zodiac, which can possibly mark new beginnings for some and also more assertiveness toward the Venus-ruled areas mentioned above.
Taurus is an Earth sign of a 'fixed' quality. Therefore, it is like a rock: solid, strong, and grounded to the Earth. It is practical, dependable, determined, and it is associated with Venus-ruled areas such as values, beauty, money, and self-worth. The sign of Taurus is more invested in the physical/material world, as food, nature, and anything to do with stimulating the senses…