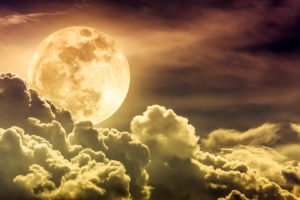 We are having a Full Moon in Libra on April 11th/12th, depending on your location. This is the peak of the Moon cycle, where the Sun and Moon are in two opposing signs — in this case Aries and Libra.
The effects of the Full Moon could begin to manifest in the days leading up to it, but the Full Moon itself influences what occurs during the following two weeks until the next New Moon. This is generally the most lively time of the month, and when emotions are the most stirred up. During this time, there may be some challenges between the opposing energies, but there will also be opportunity for integration.
Any experiences around Full Moons are generally less significant than the type of changes that could occur during eclipses; however, this one has a few interesting things to consider. Venus, Libra's ruler, has been retrograde since the beginning of March and will be until April 15th. Mercury began its retrograde fewer than two days before this Full Moon, and Saturn also just started its retrograde five days prior.
Venus' retrograde in Aries and Pisces has helped to facilitate some reflections, reconsiderations, and changes in our relationships/friendships, values, money, pleasures, creativity, and anything related to beauty and appearance. It may have brought up (or will bring up) some challenges or wounds and also potential healing in these areas. Mercury's retrograde in Taurus and Aries has overlapping themes with Venus facilitating adjustments around values, money, creativity, but also is about being more practical and aligned with our personal interests.
CLICK HERE TO CONTINUE READING THIS ARTICLE ON COLLECTIVE-EVOLUTION.COM