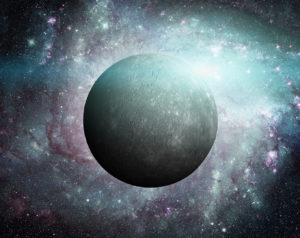 Mercury is once again going retrograde starting off in Taurus and ending in Aries. This is when it appears to be going backwards from our geocentric (Earth-based) perspective. It officially begins on April 9th/10th and lasts until May 3rd/4th. Some of its well-known disruptive effects may have already started to be noticeable for you in the days leading up to its start, and in some cases even a few weeks before.
Mercury rules over communication and transmitting information or data as well as the mind and its ability to analyze and discern. Commuting, reading/writing, mechanical/moving parts, the internet and anything else related to communication technology such as phones/computers are all under the rulership of this planet.
When Mercury is normally moving forward, these functions and applications usually go more smoothly. However, during retrograde time we tend to experience some noticeable complications in those areas mentioned above. In many cases, we experience some delays, changes, and/or cancellations as a result. If you are doing your taxes this month, it would be good to be extra careful about making any mistakes with your numbers.
Some of the challenges we might face during Mercury retrograde actually give us an opportunity to see things in a different light. For example, if your plans change, you may decide to do something else and in that process you may have some sort of realization. Perhaps you bump into an old friend and have an insightful conversation, or you pick up an old book you were reading before and have an 'Ah Ha' moment. These are just some examples but it can manifest in a lot of different ways.
It is important to be flexible during this time and be open to what the universe is showing you. Traditionally, Mercury retrograde has been viewed as a transformational period. While in most cases it is about small adjustments that we need to make, in fewer cases it can help to facilitate more significant changes and even be profound.
Any new initiatives or projects that we have started in the weeks leading before the retrograde will go through a sorting out and reflective period, which will either help us to adapt, make changes, or drop it altogether. During the retrograde itself, it is a good time to revisit anything unfinished that you initiated beforehand and if you are starting something new it usually brings some sort of learning experience with it (whether or not it lasts). This period can also be great for reconnecting with friends and others from your past.
CLICK HERE TO CONTINUE READING THIS ARTICLE ON COLLECTIVE-EVOLUTION.COM