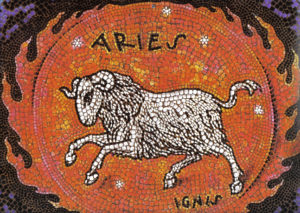 We are having a New Moon in Aries on March 27th-28th, depending on where you are located in the world. The first sign of the zodiac, Aries always initiates a new season at the Equinox. Therefore, this New Moon is what really kickstarts the astrological New Year each year, and the initiating energy of Aries.
Aries is the pioneering energy of the zodiac. It is forward moving, fast, direct, and likes to take the lead. As the first sign of the zodiac, it is also associated with 'birth' following the dreamy and spiritual sign of Pisces. At this time of year we generally start to feel more alive and willing to take action and/or possibly explore new territory.
One thing that we need to be cautious of regarding Aries energy is being impulsive without considering consequences or others, or missing important details because we haven't thought things through. This is something to consider with Mercury retrograde coming up, as all of this combined is a recipe for overlooking things. However, Aries' ruler, Mars, being in Taurus can help us to be more thorough about physical actions.
Considering that Aries is an active sign, and that its ruler Mars is in the physically-oriented Taurus (with Venus also retrograde), this can be a good time for many people to consider exercising more if they feel that they want to improve their appearance. Also, as Aries is more oriented toward self-interests, those who have been overly caught up in relationship considerations or codependencies may feel like this is a time to apply yourself more independently in certain areas of your life to bring in more balance. This is also supported by Venus and Mercury in the same sign currently in retrograde windows with Mercury opposing Jupiter in Libra.
CLICK HERE TO READ THE FULL ARTICLE ON COLLECTIVE-EVOLUTION