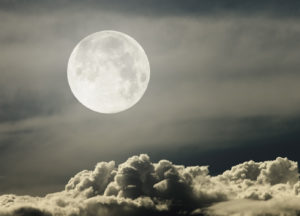 We are having a Full Moon in Virgo on March 12th, however, for those in the Western part of the world it will appear the fullest on the night of March 11th. Full Moons are the peak of the Moon cycle when both the Sun and Moon are in opposite signs, with this case being Virgo and Pisces.
The opposition between the two signs can bring up situations in which we need to learn to work with both sides of the polarity, and in many situations it can be in a challenging or emotionally charged way. In this case, however, the South Node is in Pisces (where we also had the last solar eclipse) and the North Node is in Virgo, which started in November 2015 and will finish in May.
The month of Pisces (Feb 19 – Mar 20) is generally one of the more magical periods of the year, and a good time to explore and participate in anything that involves spirituality, creativity, and healing. However, because the South Node is in Pisces, and we had the recent eclipse there, we are also being called to release any negative qualities of Pisces we may have. This energy is still playing out over the coming months. (You can read more about it here.)
During this Full Moon, we are being reminded of the evolutionary push we need to make towards the Virgo energies that we are lacking, which the Universe is calling on us to embrace. Virgo is about being grounded, realistic, attentive, organized, clean, pure, and productive. Taking care of our physical bodies and living a functional life is important when we are dealing with the Virgo sector of the zodiac. In situations like this, sometimes challenges come up that push us to be able to adapt to life's challenges in a better and more efficient way.
CLICK HERE TO READ THE FULL ARTICLE ON COLLECTIVE EVOLUTION